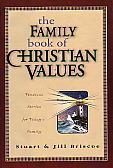 A collection of contemporary and classic Bible-based stories and passages which reinforce personal, spiritual, and relational values.
This beautiful book will help teach Christian values to your family. It combines Scripture readings with real-life applications from the Briscoes and insights from classic authors such as C S Lewis and John Bunyan.


Aesop's Fables, Anne of Green Gables, Shakespeare, Churchill, Moby Dick, Plutarch, Tom Sawyer, Longfellow, Robinson Crusoe, Dickens, Tolstoy & more.